Huskies are one of the most attractive dog breeds available.
If you have recently acquired or are considering adopting a husky puppy, it is critical to understand how much to feed a husky puppy at each stage of development: 4 weeks, 6 weeks, 8 weeks, and 10 weeks.
Huskies, like all breeds, are more susceptible to certain illnesses and ailments than other dogs.
This involves problems with the retina, such as growing cataracts.
Giving your puppy a diet that considers his long-term health can help him enjoy a lifetime of excellent health and illness prevention.
Here's how much to feed a siberian husky puppy?
Related Articles:
How Much To Feed A Rottweiler Puppy? [Answered]
How Much To Feed A French Bulldog Puppy? [Answered]
How Much Should A Siberian Husky Puppy Eat?
Huskies are a massive breed, yet they do not eat in the same way as other large breeds.
You could have problems recalling seeing an overweight husky if you think about it.
Huskies are naturally agile and fast-moving worker dogs.
Husky puppies, on the whole, do not overeat and prefer to eat only what they want.
Once weaned, a husky puppy should consume about 2 cups of food per day, divided into three meals, but this amount will vary from dog to dog, based on individual preferences and appetite.
During growth spurts and teething, the amount can change.
Siberian Husky Puppy Feeding Chart
| | | | | | | |
| --- | --- | --- | --- | --- | --- | --- |
| Weight at Maturity | Weight at Maturity | 1-1/2 – 3 Months | 4 – 5 Months | 6 – 8 Months | 9 – 11 Months | 1 – 2 Years |
| (lbs) | (kg) | (cups) | (cups) | (cups) | (cups) | (cups) |
| 3 – 12 | 1.4 – 5.4 | 1/2 – 1 | 2/3 – 1-1/3 | 1/2 – 1-1/2 | Feed as Adult | Feed as Adult |
| 13 – 20 | 5.9 – 9.1 | 1/2 – 1-1/4 | 1-1/8 – 2 | 3/4 – 1-1/3 | 1 – 1-1/2 | Feed as Adult |
| 21 – 50 | 9.5 – 22.7 | 1/2 – 1-1/2 | 1-1/2 – 2-3/4 | 1-1/8 – 2-1/3 | 2 – 3 | 2 – 4-1/4 |
| 51 – 75 | 23.1 – 34.0 | 5/8 – 2-1/3 | 1-1/2 – 4 | 1-1/2 – 3-3/4 | 2-1/2 – 4-3/4 | 2-5/8 – 6-1/4 |
| 76 – 100 | 34.5 – 45.4 | 1 – 2-2/3 | 2-7/8 – 3-3/4 | 2-7/8 – 6-1/3 | 3-7/8 -7 | 5-5/8 – 11 |
| 101 lbs and over | Over 45.4 kg | 2-2/3 cups plus 1/3 cup for each 10 lbs of body weight over 100 lbs | 3-3/4 cups plus 1/3 cup for each 10 lbs of body weight over 100 lbs | 6-1/3 cups plus 1/3 cup for each 10 lbs of body weight over 100 lbs | 7 cups plus 1/3 cup for each 10 lbs of body weight over 100 lbs | 11 cups plus 1/3 cup for each 10 lbs of body weight over 100 lbs |
Siberian Husky Puppy Feeding Chart
Here Are The Feeding Suggestions For A Siberian Husky Puppy
A husky puppy should be fed three times a day until he reaches adulthood when he can be reduced to two meals per day.
Huskies, unlike other breeds, do not generally overeat and will not eat if they are not hungry.
You should feed your dog at least two hours before any strenuous activity.
They require diet that is high in fiber, low in grain, and high in lean fat.
Huskies will struggle to lose weight if they acquire too much, so stick to a lean diet.
Salty meals should be avoided as well.
These Foods For Husky Puppies Are Recommended
Editor's Choice: Purina Pro Plan Focus
Natural Health Complete Wellness (Runner-Up)
Natural Purina ONE Smart Blend (Budget-Friendly)
Nutrition by Royal Canin Wilderness Blue Buffalo Maxi
How To Take Care Of Your Siberian Husky?
Your Husky will need a food and water dish, a collar, a leash, an ID tag, a bed, toys, and grooming materials, just like any other dog.
Shots and neutering:
Immunizations are critical in the first few months.
Spaying or neutering is another essential problem.
When a puppy is spayed or neutered, the younger it is, the healthier it will be.
Spaying or neutering can usually be done at the age of six months.
Making Your Home Husky-Proof:
Because Huskies enjoy chewing on items, it's best to keep household cleaners out of their reach.
Keep anything you wouldn't put near a human infant away from a puppy.
How Much To Feed A Siberian Husky Puppy?
2 Weeks Husky Puppy
Your two-week-old husky puppy should still be with his or her mother and fully depends on the milk of their mother.
They are not yet ready to be given puppy food.
Although their eyes should be open at this time, they will not be active or playful.
If your husky puppy isn't gaining weight or is underweight, you may need to supplement the mother's milk with puppy formula.
Discuss any concerns you have with your veterinarian to determine the best course of action.
3 Weeks Husky Puppy
Your husky puppy's eyes will have opened and he will be taking in the world around him when he is 3 weeks old.
He should remain fully reliant on his mother's milk until he is ready to transition to puppy food.
If he's part of a large litter, keep an eye on him to make sure he's growing normally and getting enough milk from his mother.
You may need to supplement the mother's milk with formula if he appears underweight or is not growing at the same rate as his littermates.
He might start teetering around at this point, but he won't get very far.
4 Weeks Husky Puppy
You can start weaning your puppy when he or she is four weeks old.
Your puppy will still require and be reliant on mother's milk, but you can gradually introduce puppy food into its diet.
Make a mixture of 14 puppy food and 34 water for this.
To begin, only give the 4-week-old husky puppy a small amount to ensure that he is ready.
You can give your puppy this mixture multiple times a day, but never force a puppy to eat.
They are still not eating much.
5 Weeks Husky Puppy
Your 5-week-old husky puppy is still breastfeeding and has not yet been weaned.
Continue to serve your food mixture to him. He should be more interested this week if he wasn't interested last week.
You should offer it 3 to 4 times per day, but if it is not eaten after 20 minutes, remove it.
However, his stomach will remain small, and he will not consume much.
His mother will spend less and less time with the litter, making the weaning process easier.
6 Weeks Husky Puppy
At six weeks old, your husky puppy should be lively and busy, and he or she should be more interested in the puppy mix you've been producing.
Once the puppy starts eating the puppy food you've provided, gradually reduce the amount of water in the combination until it's 34% food and 14% water.
Because he is less reliant on his mother's milk and will not always be by her side, now is the ideal moment to begin weaning.
Don't try to force feed your husky because he doesn't eat much.
7 Weeks Husky Puppy
At the age of seven weeks, your puppy should be eating puppy food.
He should be busy and curious now, and hungry.
Continue to feed them 3–4 times per day.
The mother dog may continue to nurse the puppies, but only to a limited extent, and she is unlikely to lay down to allow them to nurse.
Instead, she might offer a brief nursing session while standing before returning her attention to the puppies.
Since the puppy will be going to his new home next week, milk should not be a large part of his diet at this age.
8 Weeks Husky Puppy
Your husky puppies should be weaned and ready to be re-homed at 8 weeks.
Food should be fed to an 8-week-old husky puppy three times a day, but don't be surprised if they don't eat it all.
The amount of food required by your puppy varies, but in average, puppies require 2 cups of puppy food every day.
Your veterinarian should be able to advise you on your puppy's appropriate weight, but you can check to see whether he or she appears to be underweight.
Keep in mind that different huskie breeds have varied weights.
9 Weeks Husky Puppy
Your husky puppy will have been rehomed to his new family when he reaches the age of nine weeks.
He'll be fully reliant on his puppy meals without his mother dog around.
If you're giving your puppy a different meal than the breeder recommended, make sure you introduce the new food slowly so you don't upset the puppy's digestive system.
Your puppy will still require 3 to 4 meals per day and 2 to 2.5 cups of food per day.
Remember to remove any uneaten food after around 20 minutes to help the puppy establish a feeding routine.
10 Weeks Husky Puppy
At this stage, your dog should have little trouble eating consistently.
Even so, feed your puppy three times a day.
Encourage him to eat, but don't force him.
At this time, stick to a regular feeding schedule so your puppy knows when to expect food.
It would be easier for your puppy to get acclimated to the meals if you divide it into three equal portions.
While huskies are normally slender, keep an eye out for signs of rapid weight gain because they have a hard time losing weight.
11 Weeks Husky Puppy
Your puppy will be absolutely mischievous at 11 weeks and may try to eat everything in sight.
This can be deadly for dogs, so keep your floor clean and make sure the puppy doesn't have access to anything dangerous.
Your puppy should be eating without struggle, but bear in mind the weight of your husky.
Check to check whether your dog has a waist.
It is preferable for him to be slim and lanky rather than obese.
He'll most likely be hungry this week because he's going through a time of rapid growth.
If you want to keep track of your Huskie's weight, check out this chart.
12 Weeks Husky Puppy
Your husky puppy should be energetic and occupied at 12 weeks old, burning a lot of energy and requiring a lot of nutrients.
Because your puppy should be teething at this point, he may be less motivated to eat.
He should be losing puppy or milk teeth in exchange for permanent dog teeth.
Your pet should eat regularly otherwise.
At this point, stick with three meals per day, though you'll want to cut it to two by his first birthday.
Siberian Husky Puppies' Best Dog Food
Purina Pro Plan Focus
Purina Pro Plan Focus is the best puppy chow for huskies in our opinion.
This is an excellent alternative for puppies with more specific immune system requirements, which is exactly what a husky puppy requires.
The food contains lean protein, which aids in keeping your husky as lean and healthy as possible.
Pros:
DHA from omega-rich fish oil is included for brain growth.
Immune system development formula with antioxidants
Made with top-notch protein
Designed specifically for the needs of huskies.
For dogs up to one year of age.
Cons:
There is some poultry by-product meal in it.
Wellness Complete Health Puppy
The Wellness Complete Health puppy food is our second choice.
This dish is created without any grains, by-products, or fillers.
When it comes to feeding your husky puppy, a high-fiber diet with plenty of Omega-3 fatty acids is ideal.
Omega-3 fatty acids promote brain health and development while also boosting the immune system.
Pros:
There are no animal by-products in this product.
Grain-free and made with high-quality ingredients
Fibre and Omega-3 fatty acids are abundant.
Antioxidants and vitamins A and C are included.
Cons:
This food does not appeal to all puppies.
Purina ONE SmartBlend Healthy Puppy Formula
Purina One SmartBlend Formula is a more budget-friendly husky puppy food alternative.
This diet is designed to promote brain and visual development.
The diet is made out of easily digested rice and oats, as well as antioxidants that help the pup's immune system develop.
This food's first component is actual chicken, indicating that it's high in nutritious, lean protein.
Pros:
Contains DHA, which helps to maintain brain and vision health.
Antioxidant mix with dual defense
Easy-to-follow recipe
Real chicken is used.
Glucosamine is also included for joint health.
Cons:
It's free of poultry by-products.
Royal Canin Puppy Large Breed
The Royal Canin puppy food, which is meant for large breeds, is another excellent alternative.
This diet includes immune system support, which is critical for huskies.
The kibble chunks are designed differently to help teething dogs chew without difficulty.
A mineral combination is also included in the formula to aid with joint development and avoid hip dysplasia in the future.
Pros:
Designed specifically for huge breed puppies
Minerals for joint health, as well as easily digestible proteins and prebiotics
The kibble is made to be chewed easily by puppy teeth.
Supports the immunological system.
Cons:
There is considerable grain and filler in this product.
Blue Buffalo Puppy in the Wilderness
The Blue Buffalo Wilderness Puppy food is our final husky puppy food choice.
This diet is abundant in protein for lean muscle development, as well as DHA and ARA for eye development in your husky.
This cuisine contains no grains and is composed entirely of actual meats, making it an excellent all-natural option.
Pro:
All-natural food with no preservatives or by-products
Antioxidants, vitamins, and minerals are all present.
Food without grains
Made with actual chicken, this formula offers DHA and ARA for retinal health.
Cons:
This food has a lot of protein, which could upset your dog's stomach.
Weight of a 2 month old Husky Puppy
Your puppy should weigh between 8 and 15 pounds when he or she is two months old.
Male puppies have a higher weight than female puppies.
If your puppy is under 8 pounds, you may need to increase the amount of food you give him or seek advice from your veterinarian on how to gradually increase his weight.
Remember, you can't force a puppy to eat.
Weight of a 3 month old Husky Puppy
Your puppy should weigh between 18 and 30 pounds at three months of age.
The broad variety is due in part to your puppy's sex and in part to the fact that some husky breeds are inherently smaller than others.
By checking at your puppy's flanks, you can detect indicators that he is overweight.
You should be concerned if he has some swelling around the waist that goes beyond puppy fat.
Weight of a 4 month old Husky Puppy
Your husky puppy should weigh between 22 and 34 pounds at the age of four months.
By this time, your puppy should have a regular appetite and eat everything is offered to him.
Keep an eye out for any signs that your puppy isn't acquiring enough weight.
If the puppy's waist sticks out or ribs can be seen, this is a good indicator.
Call your veterinarian if your puppy is overweight or isn't eating well.
Weight of a 5 month old Husky Puppy
A 5 month old husky will weigh between 25 and 39 pounds on average.
The weight of your husky will be determined by whether it is male or female, as well as its body type.
Keep in mind that huskies are not the same as malamutes.
Huskies should be kept as thin as possible to guarantee long-term health and development.
Maintain a consistent eating schedule to help your puppy maintain a healthy weight.
You don't want your puppy to go underweight, but you also don't want him to go hungry, so pay attention.
Weight of a 6 month old Husky Puppy
You should expect your husky to weigh between 28 and 44 pounds at 6 months of age.
Because dog sizes vary widely, the range is wide.
Nothing to be concerned about as long as your puppy follows his growth curve.
If he has always been below average, then continuing below average is completely OK.
You don't want him to gain or lose weight suddenly, as maintaining a stable weight is critical for proper development.
How Much Do Siberian Husky Puppies Grow Each Week?
From the time you acquire him at 8 weeks until he is about 4 months old, your husky puppy is likely to gain 2 to 3 pounds per week.
He will then slow down his growth till he achieves adult weight at the age of a year.
Huskies mature quickly.
A husky's adult weight is roughly half of what it is at 12 weeks of age.
Huskies develop swiftly at initially, then more slowly as they get older.
Switching From Siberian Husky Puppy Food To Adult Food
When your husky has reached full adult height, you should transition him to adult food.
Because a husky won't reach full height until roughly 18 months, you'll probably want to stick with puppy food until then.
Your husky will fill out between 18 months and 2 years, but should already be at full height.
When it's time to switch foods, do so gradually over many days to avoid giving your husky an upset stomach.
What If My Siberian Husky Puppy Won't Eat?
Huskies are more selective than other dog breeds.
They have a good food memory, so if they eat something they don't like or that makes them sick, they are unlikely to eat it again.
Huskies are also prone to becoming bored with their food and losing interest in it.
Even if this is the case, you should take your puppy to the veterinarian if he is not eating at all.
If you've tried a variety of foods and your puppy is still refusing to eat, you should take him to the vet to make sure he's not sick.
What Nutrients Does A Siberian Husky Puppy Need?
Huskies of all breeds are naturally working dogs.
As a result, they will need to be staked thin and properly nourished.
Huskies were bred to go for lengthy periods of time without eating.
They are fed a lot of protein and fat because they are sled dogs.
If your puppy isn't destined to be a sled dog, stick to a high-protein, low-fat diet.
Because huskies' stomachs are naturally more sensitive, you should aim to avoid foods that include a lot of fillers and additives that could make them sick.
Should You Feed A Siberian Husky Puppy Supplements?
You won't need to add supplements to your husky puppy's diet if you feed him puppy chow.
Puppy food is already nutrient-dense, so there's a risk of overfeeding your puppy and jeopardizing his health.
If you want to supplement your dog's diet, talk to your veterinarian about your concerns first.
Adult diet is less nutritious, so you may want to consider eye and overall health supplements but consult your veterinarian first.
What is the recommended amount of water for a Siberian Husky puppy?
Every two hours, a puppy should drink half a cup of water, with the water withheld in the nights to help with housebreaking.
Older husky puppies drink one ounce of water per pound of body weight.
Your husky puppy will drink more water on average than an adult husky.
Puppies require more water as they grow older.
Younger puppies will need to drink more regularly to compensate for the loss of their mother's milk.
How Much Daily Exercise Does A Siberian Husky Puppy Require?
Huskies, as working dogs, require a lot of exercise to stay healthy.
Use 5 minutes per month of age to establish how much exercise your puppy requires on a daily basis.
A two-month-old puppy will only need 10 minutes of exercise every day, whereas an eight-month-old dog will need roughly 40 minutes.
If your husky enjoys fetch, you can run, go for walks, or even play fetch with him.
You should not exceed 5 minutes each month of age, as the puppy will become fatigued.
To keep healthy, puppies require both rest and play.
Creating A Consistent Feeding Schedule for Siberian Husky
Huskies need a consistent feeding schedule, especially if they get a lot of exercise every day.
You wouldn't eat a full meal before going to the gym, and you shouldn't feed your Husky before taking him on a walk, either.
Allow at least two hours between feedings and a half-hour for your Husky to relax before feeding.
If you don't pay attention during these times, your Husky will develop gastric torsion, which is a distended stomach filled with gas.
Siberian Husky Background Information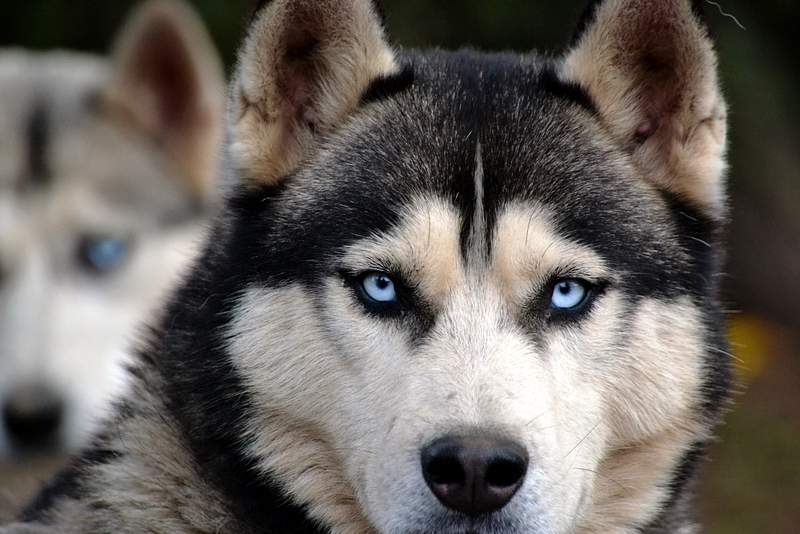 Siberian Huskies have captured the imagination of the general public, as well as artists, writers, and film producers, with their eye-catching beauty and awe-inspiring talents.
This athletic and powerful working dog is of medium size.
Huskies are exceptional dogs with incredible learning abilities.
They were created to be sled dogs, and some are still used in this capacity.
Many people admire the wild vigor and pride of Huskies, yet they are unaware of the breed's actual nature. This is a breed that not everyone will enjoy.
Many people buy Siberian Huskies because of their beauty, but they are unaware of their tough features, making them ideal candidates for shelters.
As the popularity of the breed has expanded, puppy mills and backyard breeders that do not properly breed for temperament have sprung up.
This is having a significant impact on the breed as a whole, and a variety of undesirable traits, including those not often associated with Siberian Huskies, are becoming more common in these ill-bred puppies.
There is no doubt that this is a terrific breed when you examine all of the positive qualities of their personalities.
They are self-sufficient and capable.
They are affectionate with everyone, yet they do not want to be cared for all of the time.
They aren't known to be aggressive, and they get along nicely with other dogs in the house.
They are excellent with children and will welcome everyone, including invaders, into their home.
They do, however, frequently use their amazing minds to learn less desirable material and are less concerned with pleasing their peers.
They are not suggested for first-time dog owners or people who are terrified of dogs because they are difficult to train.
Huskies thrive in the presence of self-assured, seasoned dog owners who enforce rules and provide consistency.
Huskies, like all breeds, need obedience training, but they have a unique capacity to distinguish between home and class, performing admirably in class yet ignoring commands at home.
The most crucial thing to note about Siberian Huskies is that they are notorious for escaping. They will go once the opportunity arises.
Sadly, far too many individuals have died or been injured as a result of this.
Owners of Siberian Huskys must constantly monitor their yards for any escape ways and encircle their property with a buried fence.
Despite having numerous qualities that may make them difficult, Siberian Huskies are a wonderful breed.
Their remarkable personalities are adored by fans of this passionate breed.
Frequently Asked Question Siberian Husky
How much should I feed my Siberian husky puppy?
Husky puppies, on the whole, do not overeat and prefer to eat only what they want. Once weaned, a husky puppy should consume about 2 cups of food per day, divided into three meals, but this amount will vary from dog to dog, based on individual preferences and appetite.
How many times should a Husky take a bath?
Even though they have self-cleaning capabilities, they should be bathed at least once a week, or every 6 weeks, with an appropriate shampoo. Some huskies despise bathing. Some people fear water, while others do not. We can attribute this to their ancestors.
How many times does a Husky puppy poop?
There are some general guidelines for feces frequency. A dog's bowels should be moved at least once a day in general. Many people go two or three times per day on a regular basis, but if you're wondering how often puppies poop, the answer is closer to five times per day.
Do huskies overeat?
Huskies are in tune with their bodies. They will acquire weight if they eat too much. It will be harder for individuals to lose weight if they gain weight. The life expectancy of an overweight husky is lower than that of a healthy dog.
How many times a day should I feed my Siberian husky puppy?
When a husky puppy is young, he should be fed three times. With time, he'll naturally transition to two meals each day. It will not damage the dog if you give it access to food all day because huskies do not eat like other dogs.