Mastiffs are noted for being one of the heaviest and largest dog breeds.
They are categorized as gigantic dogs since they may weigh up to 220 pounds.
As a result, any dog owner or future dog owner should anticipate that this type of dog would require a substantial amount of food, whether dry or wet.
But, how much to feed a mastiff puppy?
Mastiffs are known for their huge appetites and are frequently referred to as "lazy giants."
They swiftly grow to their large size, thus they need the right nutrients as puppies to complete their developmental milestones.
By the time they reach adulthood, they will require between 6 to 10 cups of dry food.
As a dog owner, you should establish a good feeding schedule that includes the best types of food for your Mastiff puppy's health and development.
Because they are one of the fastest-growing breeds, we cannot stress the importance of appropriate nutrition enough.
We've prepared a detailed guideline to aid you with your obligation of caring for these remarkable pets, so you'll know how much to feed a Mastiff puppy.
Related Articles:
How Much To Feed A German Shepherd Puppy? [Answered]
How Much To Feed A Curly-Coated Retriever Puppy? [Answered]
How Much Should A Mastiff Puppy Eat?
You might be unsure about the proper feeding regimen for your new Mastiff puppy.
However, if you get the hang of it, it's not such a difficult process.
Keep in mind that Mastiffs mature quickly, especially in their early phases.
In these stages, there are also nutritional requirements.
Remember that you should always expect to alter any guideline to match your puppy's individual needs.
Genetics and physical activity have a role in how each puppy develops.
As a result, feeding should be modified accordingly.
A Mastiff puppy will eat his mother's milk for the first few months of his life.
When it comes to solid food, it's best to start with 1-2 cups when he's about 2 weeks old.
You should be giving him roughly 12 cups of food when he is about 12 years old.
As he grows, this will be gradually increased.
Mastiff Puppy Feeding Chart
Here Are The Feeding Suggestions For A Mastiff Puppy
Many dog owners want to determine their dog's RER, which stands for Resting Energy Requirements.
You can find out his RER by multiplying his body weight by 3/4 and multiplying the result.
In order for the RER method to function, you'll need to weigh your Mastiff puppy as he grows in order to make the calculations.
You should also use this as a rough estimate while keeping an eye on your puppy's health.
Simply looking at the dog food package and following the directions based on age and weight is an excellent approach to figure out your puppy's feeding regimen.
Specific breeds are even listed on the packaging of some dog meals.
As a Mastiff grows, the quantity you give him will undoubtedly fluctuate.
Depending on how he's doing, you may always change the amount of food you gave him.
2 Weeks Old Mastiff Puppy
Your Mastiff will be expected to be suckling from his mother at this period, which is very delicate.
As a result, you will not be responsible for much feeding.
For warmth, he will cling to his mother and littermates.
If your Mastiff mother rejects your pups, you'll be expected to respond quickly as the dog owner.
Most of the time, this will be the pup who is the youngest.
Because you now have responsibility for this puppy, you must keep him warm and feed him.
You can use a heating pad grateful you were placed under a blanket to keep his core temperature warm and consistent in place of his mother's warmth.
You'll also have to feed him a canine milk substitute. This can be done with either a bottle or a tube.
4 Weeks Old Mastiff Puppy
You will note that your Mastiff will go through fast changes as he develops at this important stage.
This is especially true for Mastiff dogs due to their rapid growth rates.
At this point, he should be weaning and transitioning to a solid meal, leaving the liquid diet behind.
Make this adjustment as seamless as possible because your Mastiff requires sufficient nourishment, but if there are any rapid changes, he may refuse to eat.
If you don't handle this properly, he could go without the nutrition he requires to grow.
Make sure his food isn't too tough for him.
He can't eat a lot of the kibble on the market since it's too hard for him.
The consistency of his diet should be similar to mashed potatoes or a thick soup.
So you can mix the kibble with the liquid meal you've made, but keep an eye on him to make sure he's okay.
During this period, your puppy will be learning how to chew.
3 to 4 cups of food should be spaced out throughout three to four meals.
It is not uncommon for Mastiffs to revert to their mother's milk, but as he grows accustomed to solid food, this will fade away.
Remember to keep with the same brand when you introduce solid food because abrupt changes may cause him to reject the meal he so sorely needs.
It could potentially irritate him.
6 Weeks Old Mastiff Puppy
Your Mastiff will continue to grow quickly at this point and will be used to solid food.
As nursing is no longer required, he will separate from his mother.
Because he is expected to be more active as he explores his surroundings, keep an eye on him and boost his food.
He should have 4-5 cups of food every day, divided into three to four meals.
At each feeding session, observe how 1-1 12 cups work for him.
If it doesn't work and he's either too hungry or doesn't eat, make the required adjustments.
8 Weeks Old Mastiff Puppy
As your Mastiff grows, you can now give him roughly 6 cups of food, divided into 3 to 4 meals.
As he explores and learns his boundaries, he will become more lively and playful.
Physical exercise, in addition to eating, is critical for appropriate bone and muscle development at this stage.
They will be capable of surviving without their moms, who will no longer be required to feed and groom them.
10 Weeks Old Mastiff Puppy
You can start feeding your puppy roughly 7 cups of food per day at this point.
Observe how he handles three to four times each day with this increment, and then gradually increases to three times per day with the same amount of food.
Remember that Mastiffs are prone to bloating, so feeding them too much food at once can cause problems.
This is why you must keep track of how much food you give them at any one time.
This isn't to say that you should starve them.
Look for symptoms that kids aren't getting enough food.
You'll notice if they start searching through garbage or pacing up and down on the floor hunting for food.
You'll also be able to see if they're too skinny.
12 Weeks Old Mastiff Puppy
This is the time to raise your Mastiff's food intake to 8 cups per day.
Even if you feed him three times a day, you should keep an eye on him to make sure he doesn't get bloated or have an upset stomach.
When it's time to eat, he should be eager to do so as a sign of a good appetite.
For proper development, make sure the meals are healthful and well-balanced.
Dietary Guidelines and Nutrients for Mastiff
If you have a Mastiff, you need to be aware of his nutritional requirements as a puppy in order to promote his healthy development.
And it's not just about picking the right puppy food.
It's about knowing what kinds of foods he should eat as part of a healthy, well-balanced diet.
Your dog requires sufficient nutrition in order to develop into a healthy adult free of major diseases and with proper physiological function.
Mastiff puppies require 25-27 percent protein and 12-15 percent fat, which differs from adults due to the rapid muscle growth that happens throughout their formative years.
A Mastiff should be fed 21-25 percent protein and 8-10 percent fat as a mature.
If an adult Mastiff is given more than 21- 25% protein, illnesses such as hepatic and renal failure can develop.
What Are the Best Foods for Mastiffs?
Mastiffs, like other dogs, require a balanced diet of protein, minerals, amino acids, lipids, and fatty acids in order to maintain a healthy weight and bone structure.
Mastiff diets are primarily meat-based, with both protein and fat coming from human-grade sources.
Carbohydrates should make up the third half of a Mastiff's diet, as they will provide him with the energy and calories he needs.
If you're going to feed your Mastiff dog food, make sure it has at least three animal proteins in it.
These components should come first on the ingredient list, and they should ideally come from beef, fish, lamb, or chicken.
Simultaneously, you should stay away from any store-bought goods that contain artificial colors or preservatives.
While fibers are necessary for your dog's digestive system to function properly, a meal that contains more than 5% of them can be harmful to their health.
Furthermore, many owners prefer not to offer grain-based fibers to their Mastiffs because these elements might induce allergic reactions in susceptible breeds.
Introduce starchy vegetables, such as peas, as an alternative fiber source that does not contain grains.
Finally, making sure your Mastiff has enough Omega-3 sources is critical.
Whether you feed your dog salmon or simply give him Omega-3 pills, such chemicals can help maintain the health of his coat and skin.
Mastiff Puppies' Best Dog Food
Editors' Pick
1. Holistic Select Puppy Dog Food for Large and Giant Breeds
Because it is carefully created to meet the needs of large and giant breed puppies, Holistic Select Large & Giant Breed Puppy Health Lamb Meal & Oatmeal Recipe is our top option.
The kibble bits are large enough for the Mastiff's larger mouth.
Digestive enzymes, nutritious fiber, and active probiotics are also included to support your puppy's digestive health.
With most brands, this is frequently disregarded.
Better digestion means more nutrients are absorbed, which is important for your dog's health.
It makes little sense to provide him nutrient-dense food if he lacks the ability to absorb those nutrients.
Another essential feature of this brand is its high protein content, which helps to sustain healthy muscles and the presence of glucosamine, which helps to maintain healthy joints.
Pros
Components that aid digestion
This is ideal for big breeds.
Delicious for your puppy's pleasure.
Ingredients for a Heart-Healthy Lifestyle
Omega-3 fatty acids promote a healthy coat and skin.
Cons
For some puppies, kibble is too big.
Runner-Up
2. Purina Pro Plan Puppy Dog Food
Purina Pro Plan Puppy Large Breed Chicken & Rice Formula stands out as a puppy chow that is also specially created for larger breeds thanks to the addition of probiotics.
It does an excellent job of giving crucial nutrients to your Mastiff at critical growth phases in his or her young life.
Because chicken is the first ingredient, this dish is high in actual animal protein.
Your Mastiff puppy will notice the difference as well because this meal is made with real, flavorful, and nutritious ingredients.
It contains DHA, which is derived from Omega fatty acids and is beneficial to brain development and vision.
Pros
Ingredients that aid digestion and immunity
Large breeds will love it.
The first ingredient is chicken protein.
Kibble that is both tasty and crunchy
DHA is a fatty acid that helps the eyes and the brain.
Cons
Probiotics can disturb your stomach.
3. Large Breed Hill's Science Diet Puppy Dog Food
Hill's Science Diet Puppy Large Breed Dry Dog Food is a great option if you're looking for a dry dog food that will provide your puppy with the correct amount of nourishment for a healthy lifetime.
This food contains a lot of healthy nutrients that are mixed in a well-balanced composition that is good for your dog's health.
It contains chicken meal as well as oats, which aid in the development of your dog.
DHA, derived from fish oil, is added to support your developing dog's eye and brain development.
To top it off, your Mastiff will savor the flavor and rush over to you because of the enticing aroma.
Pros
Calcium is necessary for bone development.
Vitamins and antioxidants for immune health
Muscle and joint support with glucosamine and chondroitin
Encouragement with a delicious aroma
Cons
For puppies up to one year
4. Eukanuba Puppy Dry Dog Food for Large Breeds
Eukanuba Large Breed Puppy Dry Dog Food is a terrific alternative for abundant nourishment that is specifically focused for large breed dogs who mature swiftly.
It provides a balanced, full, and nutritious diet for your Mastiff, allowing him to grow and stay healthy.
It's rich in calcium and phosphorus, as well as high-quality animal protein.
This will aid in the growth of healthy bones and muscles.
Your dog will look and feel his best thanks to the DHA, as well as the optimal fats and carbohydrates.
There contains natural fiber as well as prebiotics for digestion.
Pros
Ingredients that promote muscular development
This is ideal for big breeds.
High-quality animal protein and calcium
Puppies require fat and carbohydrates to grow.
DHA is a good supplement for puppies who are willing to learn.
Great for pups up until the age of two.
Cons
Kibble is too difficult for little dogs.
The Best Mastiff Dog Food
5. Blue Buffalo Wilderness Puppy Dog Food
This is our last suggestion, although it is by no means the least. Blue Buffalo Wilderness Large Breed Puppy Chicken Recipe is a grain-free brand that is high in protein to promote healthy muscular building in your Mastiff.
Because chicken is the first component, you can rest assured that your dog is getting enough protein.
It also contains DHA, which is important for cognitive development, as well as a variety of other vitamins and nutrients that are beneficial to his general health.
Pros
The first component is real chicken.
Large breeds will love it.
For cognitive development, DHA and ARA are important.
Immunity-boosting antioxidants, vitamins, and minerals
There are no poultry by-product meals, wheat, maize, or soy in this recipe.
Cons
Food could be harmed by a faulty bag seal.
How Much Do Mastiff Puppies Grow Each Week?
You may expect a lot of variation in mastiff puppy growth from one litter to the next.
This is due to the fact that development is determined by a variety of circumstances, and no two puppies develop at the same rate.
Physical activity, metabolism, and food are all factors that influence the growth of mastiff puppies.
This makes determining the amounts that grow each week challenge. However, a safe estimate is 2 pounds every week.
Switching From Mastiff Puppy Food To Adult Food
It will eventually be time to transition your Mastiff from puppy to adult food.
Mastiff dogs have a lot more growing to accomplish because they are huge breeds.
Mastiff dogs are considered fully developed when they reach the age of 24 months.
Make sure the transition is painless since rapid changes might cause your dog to have an upset stomach and a variety of other problems.
Introduce some grownup food at a specific eating time during the day until the transition is complete.
Diet for Mastiffs
Keep in mind that adult diet requires less protein than puppy food because puppies need more protein than adults.
The idea is to keep your Mastiff puppy as slender and fit as possible while avoiding diseases that are known to harm the breed.
What If My Mastiff Puppy Won't Eat?
You should treat your Mastiff puppy's refusal to eat as a severe problem because this is how he gets his nutrients.
Before you go to the veterinarian, make sure it's nothing serious.
Check his food to make sure it's all right, and give him a day to see if it goes away.
When dogs are overfed, they will refuse to eat.
Keep an eye on your dog to determine whether you're overfeeding him, but if the problem persists, consult your veterinarian.
Should You Feed A Mastiff Puppy Supplements?
This could be very beneficial to your Mastiff, especially if he isn't getting enough nutrients from his meals.
Vitamin C pills may also aid in the prevention of hip dysplasia, a condition that is known to affect the breed.
Extra calcium, on the other hand, should be avoided because it might lead to an electrolyte imbalance. Supplements should always be recommended by a veterinarian.
How Much Water Should A Mastiff Puppy Drink? 
Your mastiff will need a lot of water as a huge breed dog.
However, keep an eye out for bloating and avoid giving him too much water all at once.
Allow him to drink as much water as he wants, but no more than 3 1/2 cups at a time.
Because of his larger size, he should be able to consume more water than a typical dog.
What Kind And How Much Daily Exercise Does A Mastiff Puppy Require?
Extensive road work (running) type exercises should not be done until after the age of 18 months, due to the rapid growth of these puppies.
Joints and growing bones are particularly vulnerable to injury.
Allowing the dog to jump off elevated areas (such as porches, decks, and pickup truck beds) or walk up more than three steps is not recommended.
Jumping off a 2-3 foot high deck, a 10-week-old large breed puppy broke both front legs.
They may also suffer injury to their shoulder joints.
To avoid joint injuries, puppies should not be allowed to play or spend significant time on slippery surfaces (i.e. tile or linoleum floors).
Allowing the Mastiff puppy to become overweight puts stress on its growth plates, which can lead to broken bones.
Similarly, do not leave your puppy in a crate for long periods of time.
Exercising insufficiently is just as harmful as exercising excessively.
To carry its adult weight and be a strong, healthy, active dog, your puppy will need to exercise to develop proper muscle tone and bone structure.
Allowing children to pull on the legs, jump on, or lie on your puppy, despite its size, is not a good idea.
It's possible that you'll sustain a long-term injury.
Always keep an eye on your children (both young and old) and teach them how to interact properly with your puppy.
Tease, hit, and injure your puppy, and he or she will develop an antisocial personality.
All members of a puppy's family should shower it with love and positive reinforcement.
Because Mastiffs are enormous, fast-growing dogs with sluggish joint development, their exercise levels must be strictly regulated until they reach the age of 18 months to avoid injury.
You must keep an eye on your dog's activity level to avoid over-exertion while ensuring that he gets enough exercise.
This usually accomplished through activities such as walking or playing with toys.
Stop when the dog exhibits indications of exhaustion; young puppies should not be taken on extended walks unless you can carry them home!
Creating A Consistent Feeding Schedule for Mastiff
The feeding plan for your Mastiff can vary based on your preferences.
The majority of dog owners like to feed their pets twice a day, once in the morning and once in the evening.
This method ensures that your dog has enough energy to keep him comfortable throughout the day.
Feeding your Mastiffs at different times depends on when you are available to take your dog out to relieve himself.
In any case, your Mastiff should be fed at least twice a day.
A single large meal can encourage your dog to eat more quickly and aggressively.
Aside from the digestive issues that this practice can create, eating only one meal per day can lead to increased aggressive behavior.
Remember that a dog's stomach will be empty in approximately 7 hours. So even if you only feed your Mastiff once, he'll remain hungry for the rest of the day!
Mastiff Background Information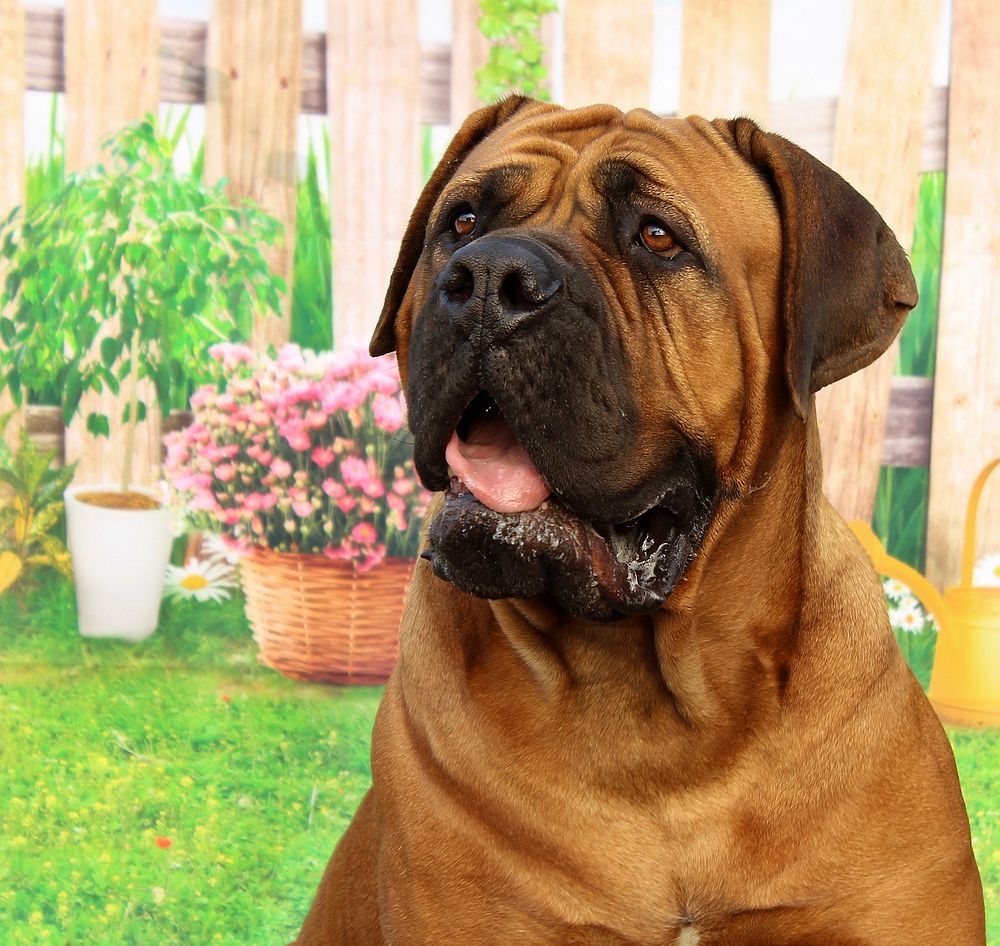 The enormous Mastiff is a member of a canine family that dates back to the dawn of humanity.
The Mastiff is a large, heavy-boned dog with incredible power and courage.
He is placid and dignified, but also a fierce protector of the people he loves.
A face-to-face meeting with these black-masked giants can be disconcerting for the inexperienced.
A full-grown guy can outweigh a male who stands at least 30 inches tall at the shoulder.
A short double coat of fawn, apricot, or brindle stripes covers the rectangular body, which is deep and strongly muscled.
A furrowed forehead underlines an alert, compassionate face on the large and powerful head. Mastiffs are patient, loyal guardians who respond well to moderate instruction.
Mastiffs are fiercely loyal to their families, and their instinctive fear of outsiders necessitates early socialization and training.
Mastiffs are wonderful pets, but getting a robust giant-breed dog is a significant commitment.
Frequently Asked Question Mastiff
How much should a 6 week old mastiff eat?
Because he is expected to be more active as he explores his surroundings, keep an eye on him and boost his food. He should have 4-5 cups of food every day, divided into three to four meals. At each feeding session, observe how 1-1 12 cups works for him.
How much should I feed my puppy bullmastiff?
3 1/8 to 4 1/8 cups of high-quality dog food, divided into two meals, is the recommended daily quantity. Rather than putting food out all the time, measure their food and feed them twice a day to keep your Bullmastiff in good form.
What should I feed my English Mastiff puppy?
For English Mastiffs, a meat-only diet is suggested. A puppy's diet should contain 25-27 percent protein and 12-15 percent fat. Puppies require more protein than adults because their muscles grow quickly. Your Mastiff's diet should consist of 21-25 percent protein and 8-10 percent fat.
How much do mastiffs eat?
For an adult Mastiff, a daily amount of 6 to 8 cups of high-quality dry food, divided into two meals, is normally advised. See our buying the proper food, feeding your puppy, and feeding your adult dog guides for additional information on feeding your Mastiff.
How many times a day should I feed my bullmastiff puppy?
Puppies should be fed multiple little meals throughout the day. Because the bullmastiff is a huge breed of dog that grows quickly, it's critical to discourage them from becoming overweight or gaining weight too quickly to avoid joint problems and digestive disorders.